What happens after Drupal 7?
Five

questions and answers
After more than a decade since its initial release, Drupal 7 - the digital backbone for many of the world's leading organisations and businesses - is set to expire permanently on 1 November 2023.
For the more than 8.000 websites that are currently still running on Drupal 7, the sense of urgency may have been tempered by the fact that the end-of-life (EOL) was already extended once a year ago. But now that the definitive exit is nevertheless in sight, the question remains whether a timely migration is still feasible. Well, let's take a moment to answer your most pressing D7 questions right away!
1. First things first, what does the end of Drupal 7 mean?
Simply put: as of 1 November 2023, the Drupal Association and the Drupal Security Team will stop supporting Drupal 7 (D7). This discontinuation includes the termination of ongoing support of security fixes for both core and contributed modules, alongside any CMS enhancements.
2. What if I decide to stick with Drupal 7?
We understand that for many businesses and organisations, the very thought of having to migrate your website, and in many cases your digital infrastructure, can appear daunting. As a result, postponing your migration might seem like an obvious move.
It is important to add that if you are currently running on Drupal 7 and plan to continue after the extended EOL date, your website will continue to function as normal with little or no downtime. However, as indicated above, Drupal 7 will no longer receive official updates or support from the Drupal Association and Security Team. This implies that security vulnerabilities or bugs (discovered after that date) will no longer be resolved, which is likely to pose multiple security risks to your organisation and its customers.
Moreover, by choosing an unsupported CMS, you will not be able to discover and exploit all the features and new functions of Drupal that are currently being rolled out for its latest version, Drupal 10.
3. What should I expect from Drupal 10?
Drupal 10, recently launched on 14 December 2022, is the very latest version of Drupal's incredibly popular open source CMS. It includes a range of new features and updated functionalities (e.g. a streamlined core and starter kit theme generator), aimed at improving and enhancing the platform and its applications.
4. Should I migrate to Drupal 9 or to Drupal 10 right away?
Now that Drupal 9 has also announced its EOL in November 2023, it goes without saying that we recommend skipping Drupal 9 and heading straight to Drupal 10. Unlike moving from Drupal 7 or Drupal 8 to Drupal 9, moving from Drupal 9 to Drupal 10 is actually an upgrade instead of a rewrite and migration.
There might be a few growing pains associated with Drupal 10, but since many of the community-contributed modules have already been updated to be Drupal 10-compliant and the others are not far behind, we believe this is worth it considering the risks associated with continuing to use an unsupported CMS variant such as D7, D8 and soon D9.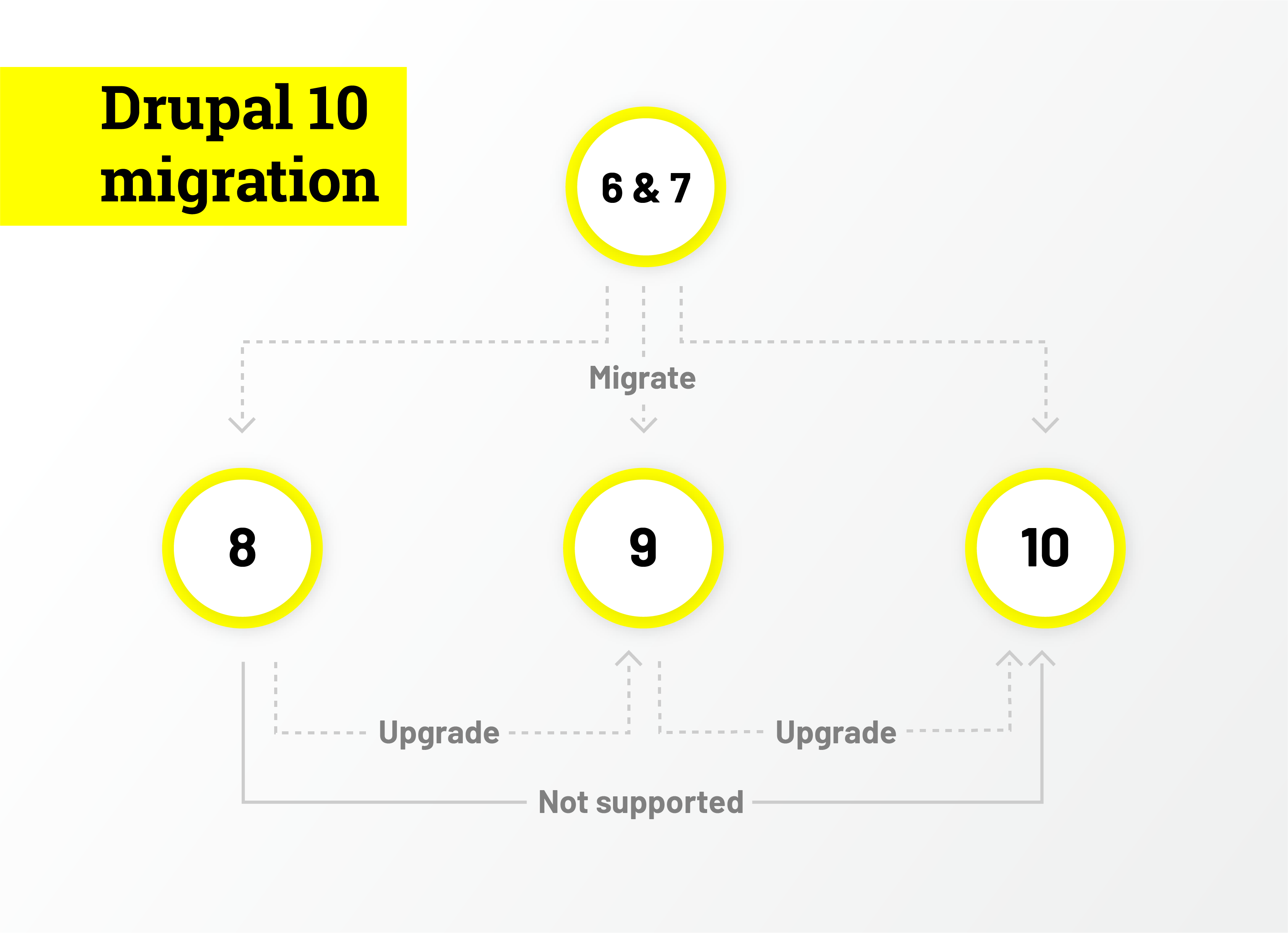 5. Do I still have time to get started?
If you are reading this and you still have to get started, no worries. You still have plenty of time to kick off. Thanks to Tobania's partnership with Acquia, we can extend commercial support for Drupal 7 users until 2025, allowing your organisation more time to properly plan your migration.
Whatever decision you make, it is imperative that you consider the time needed to plan and execute your migration. For example, you should always consider unforeseen bugs and other challenges that almost automatically may arise during a migration.
Get your free Drupal 10 scan
At Tobania, we would be happy to do a Drupal 10 Flight Path Assessment for you to estimate the type of migration you can expect. This scan is non-binding and shows you the elements we can automatically convert, as well as areas that require a bit of work.
On top of this, Tobania, together with Acquia, provides a tool to speed up the migration work. On average, we migrate up to eight times faster than when using a traditional approach. And as far as your fast-growing website concerns, that may be worth considering, right?