Tobania, Acquia and Beyond
Our key findings from founder Dries Buytaert's visit
On Thursday 29 September, Tobania hosted an exclusive CxO Lunch at Living Tomorrow as part of its innovation track. The guest of honour on duty? Drupal and Acquia founder Dries Buytaert. Freshly flown in from his home town of Boston, the Belgian-American IT entrepreneur jumped straight into sharing some enriching future insights on his partnership with Tobania and the key significance of online user experience. Curious? Well, we are happy to share our key findings.
Drupal and Acquia in a nutshell
What started 21 years ago as a recreational activity, has become an inconceivable value in today's tech business. Just to put it more concretely: Drupal evolved from a simple messaging system among friends to an established open-source content management system for millions of websites. That accounts for one in eight enterprise websites worldwide, backed by a Drupal Community of more than 10.000 active members. Extraordinary to say the least. The fact that the open-source advocate takes immense pride in this Drupal Community isn't only apparent from his personalised Drupal Converse All Stars, which quickly caught our attention. His driven long-term vision catches the eye too, in which his innovative digital experience platform Acquia takes centre stage.
In 2007, Dries founded Acquia, the company that provides solutions for building, managing and optimising Drupal-driven digital experiences. To further embed himself in start-up culture, Dries moved to the United States in 2010. After all, he was all set to develop Acquia any further. In between his continued growth plans, however, Dries occasionally returns to his roots in Belgium. And that includes his visit to Tobania, with whom he will soon join forces for a major customer project. To briefly outline where Acquia, and thus also Tobania, will focus in subsequent innovation projects, we briefly summarise the key takeaways of Dries' session.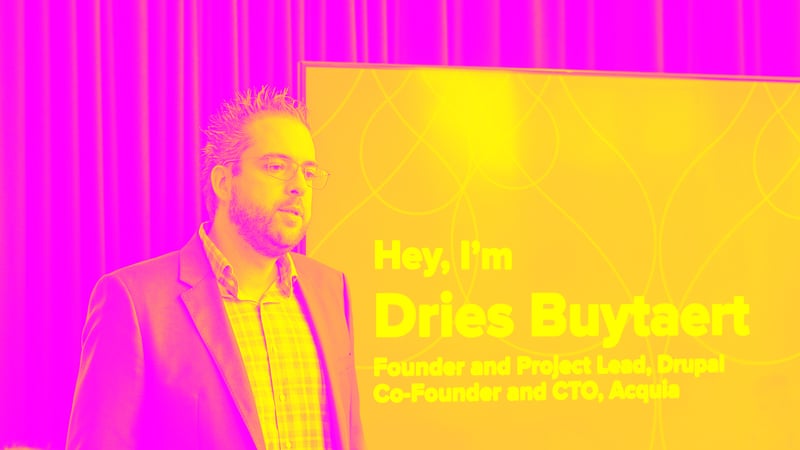 1. The next-best hype isn't all that - invest in things that won't change.
To take a long-term view, we briefly draw on the words of Amazon CEO Jeff Besos, who immediately refers to the question companies are tempted to ask themselves rather too easily: "What's next?" However, at its heart, innovation is really about the question: "What will remain?" After all, at the end of the day, the megatrends that are here to stay, are exactly the ones you should invest in. So, together with Acquia, we are most definitely focusing our efforts on open source, cloud, WCMS -> DXP, content, applications, data and risk, which is bound to continue to grow in the coming years.
Content

: today's companies process an increasing amount of content.
Applications

: today's companies, small and large, are increasingly working with multiple (local) sub websites.

Data

: digital experiences are becoming 100% data-driven. Self-service, and machine learning automation are therefore turning into a must.

Risks

: compliance and brand governance demand plenty of managing efforts.
2. Experience is King – opt for experience orchestration to ensure ease of use.
How do you distinguish yourself in a market dominated by frequent supply? Well, by responding to your end user's overall experience and by pursuing the holy grail: offering the right content and right end-user experience at the right time, in the right format, and on the right channel.

Sounds straightforward, but it actually isn't, as it requires a multidisciplinary effort to open up your user data to all of your teams and to break down the product silos in which they work today. It's no longer about your web teams doing one thing and sales teams doing the other. It's about creating a product orchestration which integrates all your business touchpoints.
3. All stakeholders matter - democratise your user base.
That being said, it has become imperative to engage all stakeholder users from the outset when using your CMS. Therefore, in addition to programmers and software developers, Acquia also involves the participation of other target groups such as marketers, content creators and sales profiles, for example.

By pulling the card of low-code and no-code in addition to headless development, non-technical profiles are given the opportunity to get started with your own application or website(s), which eventually enhances the single source of customer experience (holy grail) you're aiming for.
Curious about what Tobania and Acquia can do for your innovative digital project? Then be sure to contact us. We will be happy to discuss your possibilities in detail.