Drupal 10 Release: What You Need to Know
The long-awaited Drupal 10 update is finally here! Whether you're a seasoned Drupalist or completely new to the Drupal world, we'd like to walk you through what this update from our partner Acquia has to offer. We're excited about the release for a lot of reasons that we'll discuss shortly, but most importantly, we're eager to continue contributing to the growth of the Drupal community.
Ready? Let's dig in.
Drupal 10: what's new?
With one in eight corporate websites running on Drupal, continuing to build is a must. The sites of organisations like Nasdaq, the U.S. Internal Revenue Service, IBM and Pfizer depend on the software's continuous improvement. Its ability to scale up securely is already a key feature that makes it the content management system of choice for ambitious organisations swinging at the fence about the digital experience - regardless of company size.
Drupal is an open source project and regularly receives thousands of contributions to its development, keeping its innovations one step ahead of closed-system software R&D shops. Fortunately, this is the nicest Drupal update yet, and there is plenty to be excited about. Here's what to expect.
Olivero front-end
The old Bartik theme is replaced by the sleek, modern Olivero theme. This theme is gorgeous right out of the box.
Named after Rachel Olivero (1982-2019), a Drupal contributor, head of the organisational technology group at the National Federation of the Blind, and acclaimed accessibility expert, the Olivero theme has accessibility features that make Drupal 10 work for everyone.
Claro back-end
Claro is the modernised back-end that will replace the 2009-designed Seven theme. A great deal of work went into colour contrast and element unification in the various user interfaces of Drupal 10 core. Touch targets are bigger, and administrator tabs were moved based on user research and better accessibility. The look is fresh, making Drupal more inviting. In the past, the look didn't match the underlying power of Drupal, making its infinitely flexible capabilities seem dated based on appearance alone. Claro gave it a refined look that invites people to discover Drupal's power.
CKEditor 5
CKEditor 4 will reach its end of life in 2023, so we're moving to CKEditor 5. On the front end, it's a greatly refined content editing experience. For instance, you can now edit links and images in place versus having to open additional dialogue boxes.
Another CKEditor 5 update we're excited about is improvements to copy-pasting from Word Documents or Google Docs into the content editor. It'll remove mark-up copy-pasted from those programs.
For an extra fee, there's CKEditor 5 Premium Features, a contributed project with real-time collaborative editing and commenting features available, as well as Word and PDF exports. Take it out for a spin: try a 30-day free trial.
A new object model, plugin, and configuration system enables these features. The Drupal community worked with CKSource to implement the upgrade, with developers from Acquia also contributing to the effort. At the start of the initiative, critical Drupal requirements like UI-based plugin configuration weren't possible nor was source editing supported. Now both are.
Starter kit theme generator
Drupal themes are not often created from scratch; instead, they're built atop base themes. In Drupal 9 and before, this was supported with runtime inheritance where the base theme and the derived theme were both on the system. This approach was risky, however. If the base theme changed something in an update, the site's look or behaviour could break.
With Starter kit in Drupal 10, you create a fork from a compatible theme and work on your copy from there. Whichever version you copied from is automatically retained. If there are updates to the theme you started from, it's now up to you to review and apply those changes to your version, greatly improving its stability.
A modernised platform
With these features on the horizon, you need to make sure certain elements are in place before you can work in Drupal 10. For example, Drupal 10 will:
Be released with Symfony 6.2, an upgrade from Symfony 4 in Drupal 9

Require PHP 8.1 but can also support PHP 8.2

Be incompatible with Internet Explorer

Require Composer 2.3 for development
These upgrades will improve the Drupal experience by enhancing support, boosting site performance, and providing a more modern UX for developers and non-technical users alike.
Streamlined core
To focus Drupal 10 on the core experience, as well as to allow some modules and themes to be more freely improved by the community, the following components were moved from Drupal Core to contributed projects. They'll still be available but will be maintained separately.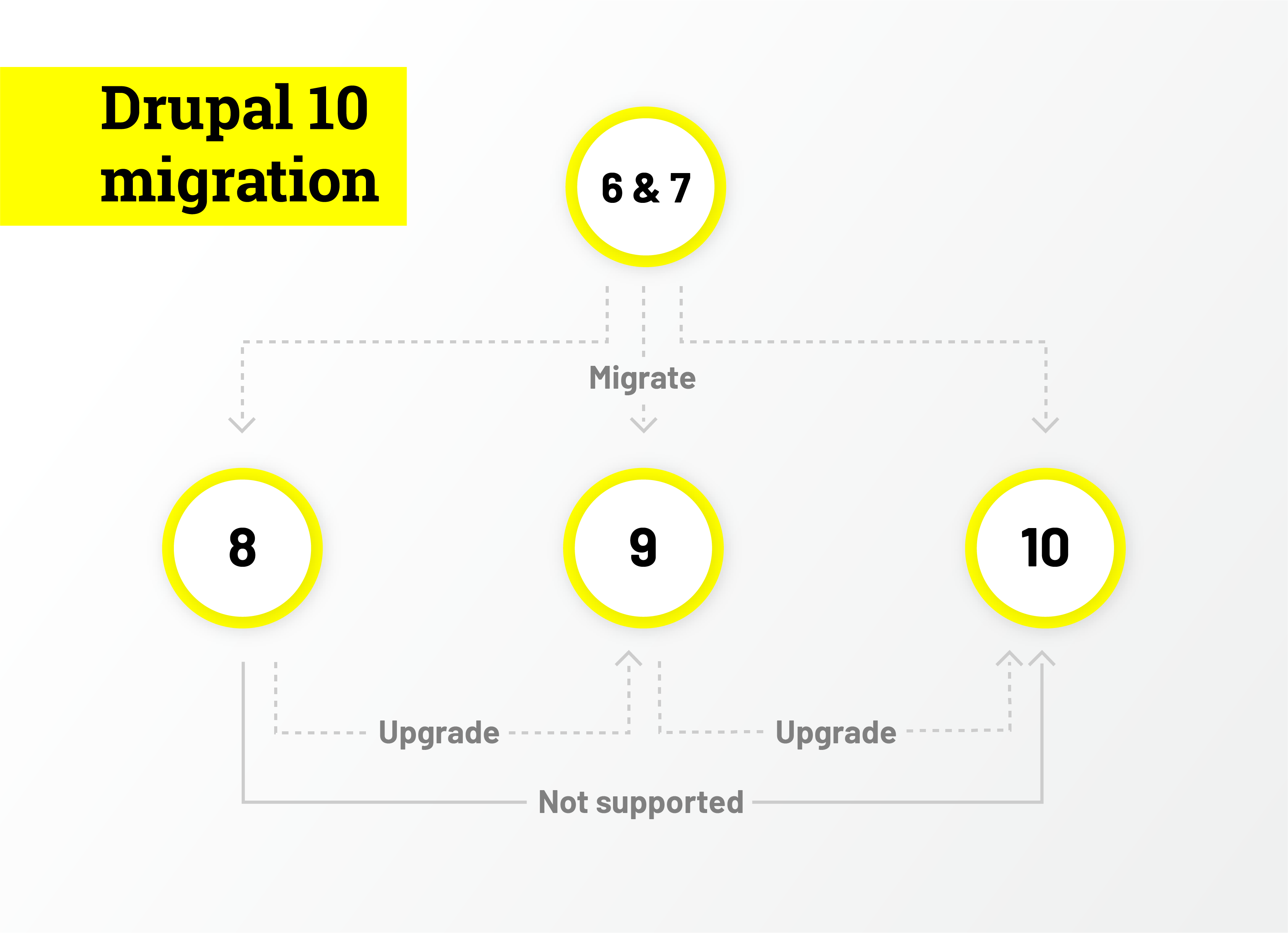 Upgrading to Drupal 10
For those of you installing Drupal 10 for the first time, you're golden; for others, the new release may require a site migration or an upgrade. Below are tips and tools to help. But, first, here's an idea of where to go based on where you're starting from.
So, if you're upgrading from:
Drupal 7

requires a full site migration to Drupal 9 or 10. Acquia offers the

Acquia Migrate Accelerate

tool to migrate from Drupal 7, which greatly simplifies your process. If you're not on Acquia Cloud, use the Upgrade Status Module to check which of your projects have compatible releases and the Migrate module suite to migrate your content and configuration manually. Whether you're migrating to Drupal 9 or 10 depends on your project timeline. If you are not launching the updated site imminently, looking at Drupal 10 would be better.

Drupal 8

reached its end of life on November 2, 2021. Because of how the major upgrade paths are built, there's no direct upgrade path to Drupal 10.
Follow these steps instead:
Step 1: Upgrade to Drupal 9.

Step 2: Install the Upgrade Status Module to assess your site's upgrade readiness.

Step 3: Go to the Drupal Admin UI and enable the module once installed.

Step 4: Scan modules for Drupal 9 readiness and update modules with deprecated code as needed.

Step 5: Finally, update Drupal core to Drupal 9, and you're done.
Drupal 9 requires users to follow a series of steps:

Step 1: Install the Upgrade Status Module and enable it. It'll run an environment readiness check that will note everything you need to do before moving to Drupal 10 as well as give you a checklist right in the UI.

Step 2: Follow the upgrade instructions and update your modules as needed. For your custom code, run Drupal Rector to automatically fix most incompatibilities. For identified issues that can't be addressed automatically, follow the documentation to fix them manually.

Step 3: Finally, update Drupal Core to Drupal 10.
Acquia and Drupal 10: The perfect match
Our partner Acquia is the world's foremost contributor to Drupal, and they're here to help make your solution work as smoothly as possible. Whether you're a Drupal noob or a seasoned veteran, Acquia's got you covered. Learn more about the Acquia and Drupal 10 dynamic duo here.