Migrating to Drupal 10? Tobania Has Your Back
Discover free tools that support your site migration to Drupal 10.
A moment of silence for Drupal 9, which recently sunsetted but not before leaving us with a gift: unlike all previous versions of Drupal, it ensured new features will be released twice a year. That means new Drupal releases will mainly be about retiring deprecated code. No more waiting for the next big Drupal release before accessing new features . . . unless you're one of those organisations still working off of Drupal 7 (D7).
Never fear — Acquia, which was co-founded by Drupal creator Dries Buytaert, can help users still on Drupal 7 (D7) to upgrade to Drupal 10 (D10).
And as a proud partner of Acquia, we've fully supported Drupal 10 since its inception. So, if you're still on Drupal 7 and ready to take the next step, we can ease the process with a D10 Flight Path Assessment and Acquia Migrate Accelerate (AMA), the first and only tool purpose-built for accelerating Drupal 7 to Drupal 10 migrations. Best yet, both tools are free, though only existing Acquia Cloud Platform customers can access AMA.
Flight Path: Mapping your migration journey
In the past, a Drupal migration was a significant undertaking that spanned months. Teams needed to audit their sites, remove outdated content and code, import new data, upgrade all system requirements, and port over custom modules and themes.
But, together with Acquia Migrate Accelerate (more on that in a minute), a D10 Flight Path assessment helps organisations with the planning and analysis required ahead of a migration. The tool eliminates the spreadsheets and hours of work needed to audit the content and modules of your D7 site. In addition, Flight Path maps the known content and module migration pathways that businesses can use in AMA to port over to their D10 sites.
If your organisation lacks an existing migration route, Flight Path helps you determine what actually needs to be moved over and how much time that'll take. By automating those tasks and more, Flight Path can help you quickly and easily discover insights into your D7 application.
Acquia Migrate Accelerate: Spend less time planning and more time innovating
Like Flight Path, Acquia Migrate Accelerate dramatically reduces the time, effort, and expense needed to complete each step of the migration process. Through a combination of automated migration tools, pre-configured D10 application, and the support of an optimal Drupal environment, AMA helps organisations migrate D7 applications to D10 up to 80% faster than if they took on the migration alone.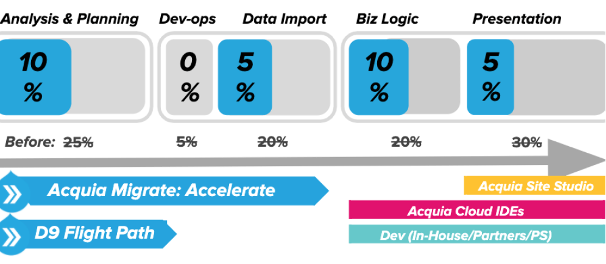 See how much you save with Acquia products in each step of a migration process.
AMA can also help expedite migrations with its Module Recommendation Engine, which will automatically recommend modules and patches needed to move code over from your old D7 site to your new D10 site and smooth out migration paths. Site builders can use the Migration Dashboard to track any errors or code issues throughout the entire process and empower team members to preview their migration efforts before importing content.
In addition, AMA includes an Advanced Migration UI on top of Drupal's powerful Migrate API to lower the barrier of entry for enacting content migrations. Instead of manually writing custom code to migrate from D7 to D10, you can use this tool to automate the process. That's because we recognised that the release of D9 and D10 represented a significant evolution in the Drupal community: both made Drupal more accessible to beginners and non-developers who want greater autonomy in how they create digital experiences.
The Advanced Migration UI web interface allows those groups to work independently without having to rely on dev resources during the initial steps of migration. For developer teams, the Advanced Migration UI web interface means they don't have to spend as much time on preparation and maintenance. Instead, they can immediately dive into the upgrade.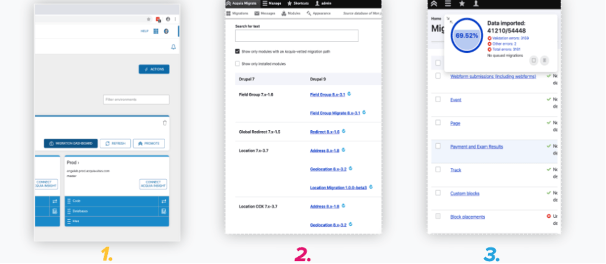 Once your migration to Drupal 10 is complete, Acquia Cloud Platform will be ready to support your new application out of the box. Our Drupal experts have made sure to continuously enhance our platform to keep up with all new Drupal versions so that you can have the best hosting experience possible.
Offering support today and into the future
No matter where you are in your Drupal migration process, Tobania can support you now and into the future. Our steadfast commitment to the Drupal community has never wavered, and our partner Acquia continues to invest in Drupal's development as the number one contributor to the Drupal Project year over year.
To receive a free D10 Flight Path Assessment, you can request your report here and our Service Delivery Manager Thomas Dejan will get back to you as soon as possible.