Tobania and FRIS: "Building a fourth database generation together"
Did you know that Tobania is fully involved in the FRIS research portal? FRIS stands for Flanders Research Information Space and is the data hub for Flemish scientific research. To introduce you to FRIS, we got into a dialogue with Program Manager Ils De Bal. She will be happy to tell you more about the platform and its purpose.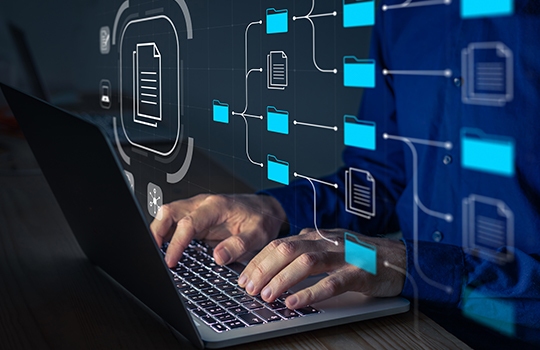 We are interviewing Ils De Bal, Program Manager at the Department EWI ("Economie", "Wetenschap" and "Innovatie") of the Flemish Government. Since 1 September 2020, Ils has been responsible for the FRIS team, among other things:
"FRIS stands for Flanders Research Information Space and is the data hub for Flemish scientific research. Meanwhile, you can find data of more than 86.000 researchers, 465.000 publications and 44.000 research projects", according to Ils. To keep expanding the portal, three Tobians also joined the FRIS team. Ils' story in a nutshell:
Building a fourth Generation with Tobania
"Meanwhile, we are building FRISR4, the fourth database generation that will guarantee more functionality, data and monitoring capabilities. To achieve this, we will provide more data providers and objects within tight legal deadlines. Yes, it will require an all-out effort to get this expansion done together with the team. Besides the IT developments, the bottom-up process with the various data suppliers also is quite a challenge."
"How is it going in times of corona? Very well! We work with a team of enthusiastic and very committed colleagues via Microsoft Teams, Slack, chat or video calls. And it is successful. Our team now consists of nine people: three EWI colleagues, three business analysts and three Tobania developers. It's really nice to experience how we can work together as a team and try to get better at what we do every time. In short, it is a process of continuous improvement," says Ils.
"The new functionalities that are being developed by the Tobania colleagues must of course also have an impact on the FRIS portal. This portal aims to be a visible platform for (partially) publicly funded research in Flanders. In the future, information about research infrastructure, patents and datasets, among other things, will therefore also become available."
The purpose of FRIS
"The goal of the FRIS portal is to bring researchers closer together, to stimulate interdisciplinary research, to enable networking between researchers and to help find experts in certain disciplines. Especially in corona times. Moreover, the initiative wants to build a bridge between industry (looking for competent researchers), business developers and Flemish and international researchers. Companies can also find information on the portal about specific research infrastructures that can help them in their innovation process."
"But that's not all. FRIS is also an important link in the Open Science policy of the Flemish government. The Open Science and Open Data content will be measured via FRIS and FRIS will also function as a channel through which information will flow to European Open Science platforms."
"And if that is not yet satisfactory, we are constantly working on the performance of the platform. We are trying to improve the system where possible and we are looking at how we can collect even more data by enriching it with other (authentic) sources. You can therefore say that FRIS is on its way to becoming a real treasure full of research metadata", concludes Ils.
The Flemish government has FRIS usage rights. These are made available under the Flemish Free Open Data Licence. For each use, the following source citation must be included: Flemish government - Department of Economy, Science and Innovation.
For further information please contact fris@vlaanderen.be.