The municipality of Houthulst opts for an extensive preliminary process for its cms implementation
Because Houthulst wants to focus on innovation, the municipality's communication team decided to implement the interactive cms eGo. The preliminary phase of the project has been completed and Anja D'hooghe, Communication Coordinator in the Municipality, is happy to look back on the first few cooperation stages with Tobania.Public.

In-house knowledge
"Initially, it was not the intention to build a new website. An upgrade of the former CMS was sufficient," says Anja D'hooghe, Communication Coordinator at the Municipality of Houthulst. But one thing led to another: the communication team joined forces with Tobania and chose a new cms, eGo. "We compared several companies and finally selected the most innovative player who offered a clear and concise solution. Tobania's experts have sufficient in-house knowledge. That way, they don't have to rely on external players. Moreover, they listen to the customer and are open to everything. Yes, there is a great bond with the team," Anja continues.
Comprehensive kick-off meeting
To fully understand the needs of the communication team, Tobania scheduled a kick-off meeting. "At such a meeting, it is very important to get everyone on the same page. And that was certainly the case. Tobania had a good sense of where Houthulst wants to go. We are very satisfied with the current design. The look-and-feel reflects our expectations and is very innovative. You can tell that the experts are really elaborating on all the possibilities of the product", says Anja.
"Why did the meeting proceed so smoothly? Well, that's not hard to explain. It was comprehensive and well prepared. From training to go-live: all items on the agenda were discussed and, moreover, forwarded in advance."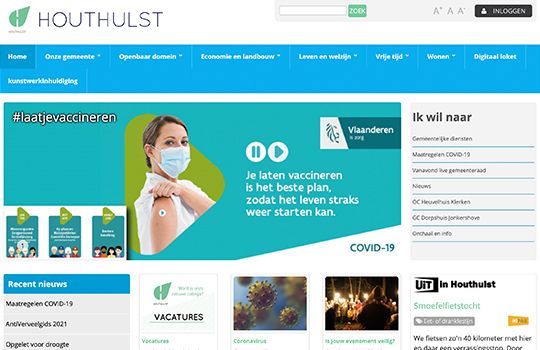 Simple training courses
Anja and her team have now entered the training phase. "You always have to wait and see, because during such training courses there is an abundance of information", says Anja. So far, however, everything has been progressing very smoothly. "The modules are easy to understand and are arranged logically according to the same principle. If you understand one module, you can move on to the others. Moreover, I could always ask all my questions and there was never anything too much. If I did not understand something, everything was explained in understandable language and with a smile."
The future
The municipality of Houthulst experienced a smooth start of its CMS project and is now looking forward to the future. "The go-live of the municipal website and the intranet is planned for mid-March. In the meantime, we have also been asked internally to launch a third website that focuses on local tourism. Whether this will be completely in line with the main website or will have a different look, we will discuss in the fortnightly sprints with the Tobians", concludes Anja.