Data in the Driving Seat: Transforming the organisation from inside out
The Vlerick Digital Transformation Club invites you to an evening session on data-driven organizations. Get inspired by our expert speakers' insights on how to put data in the driving seat.
Data is often referred to as the new gold. During this panel, we will propose an alternative analogy: data is the driver your organization needs to navigate current strategic challenges. To illustrate this, a variety of use cases will be discussed, not only those where qualitative data can cut costs and drive revenue but also those where data proved to be the last resort for a company's survival.
Once the urgency to become data-driven has become clear, how do you execute it? Like any transformation, it requires top-down support, cross-disciplinary teams, and an active change in corporate culture. Our panel of experts will elaborate on the good, the bad, and the ugly of changing an organization.
Prepare for a night of interactive discussion where we will welcome your ideas and questions. In the end, you will have obtained key takeaways and actionable insights for your organization, and have spent a lovely evening with like-minded people.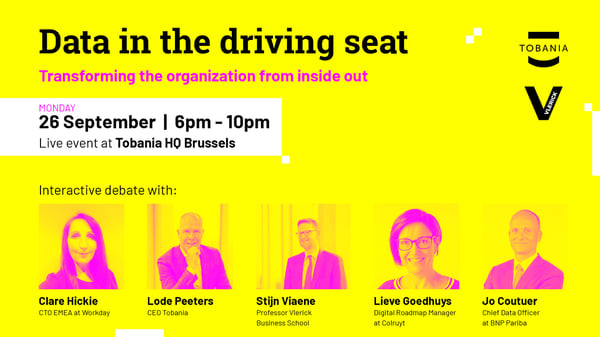 Speakers
Clare Hickie -

CTO EMEA at Workday. Before joining Workday, Clare was leading the global ITHR Services at GSK.
Lieve Goedhuys - Digital Roadmap manager at Colruyt with expert knowledge in the fields of enterprise architecture and digital transformation
Lode Peeters – CEO at Tobania and CEO and co-founder at Assua, the Tobania holding company. Additionally to that he is in the board of directors of Agoria
Jo Coutuer - Chief Data Officer at BNP Paribas and Chairman of the board of Co.Station
Stijn Viaene - Professor and Partner at Vlerick Business school, Director of the Vlerick center for enterprise acitecture and digital design and Member of the advisory board of Fujitsu Belgium
Want to join? Subscribe at the Vlerick Event page.