Another year of strong results for Tobania: "We grew by 9% in 2021."
In 2021, Tobania has once again achieved great results.
The entire group (Tobania, Python Predictions and Toba HR Solutions) grew by more than
9
% in the past year. Moreover, the company's EBIT also showed a positive trend
,
growing by more than 300%.
In short, for the seventh year in a row, the Business, Data and Technology Consulting company continues to deliver an incredible success story.
The Tobania Group closed the previous financial year (2021) with excellent results. We are extremely satisfied with this outcome," says Lode Peeters, CEO of the Tobania Group. "Despite the second, rather difficult corona year, this is still quite an achievement. These results provide us with the oxygen to continue investing in the further development and support of our Tobians, and in innovation and market development for the benefit of our customers. Last but not least, it is important that we can continue to be strong tomorrow." HR & Sourcing Services Company of the Year
It is noteworthy that all three companies in the group are doing well. Tobania, Toba HR Solutions and Python Predictions all recorded significant progress.
Tobania, active in Business & IT consulting, recorded a revenue growth of 9%. In addition, operating profit increased by 360%. "Despite the challenging market and the difficult recruitment environment, these results are still very remarkable, continues Lode.
"We also received the award and compliment from Data News as HR & Sourcing Services Company of the Year. This recognition makes it all the more pleasant and motivating to continue building our clients' digital future.
Data is booming
The data specialists at Python Predictions also continue to build on their success. This year, for example, they grew by 18% in impact to continue to meet the high demand.
"In addition to AI projects, we are now developing total data-related systems. Not only do we draw up a data strategy, but we also set up the future-proof data environment, so that customers can work out even better AI and BI solutions in the future.
The proof of our ability in large organisations have granted us the confidence to set this up with them," says Lode Peeters.
Cloud-based HR story
We would also like to look back at Toba HR Solutions, the market leader in complex staff planning and HR monitoring. They, likewise, recorded a growth of 7% in terms of turnover, and 85% in terms of operating result (before taxation).
"Here we expect even greater growth in the coming years. The system will soon be completely cloud-based, which will allow us to move even faster and more efficiently. Stepping into new sectors and expanding boundaries will be the next stage," concludes Lode. With this growth Toba HR Solutions will also be able to further expand the group.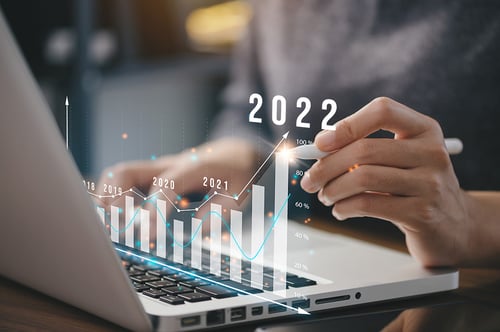 Recruitment and retention as priority
All three companies face the same challenge when it comes to talent. The "war for talent" is decisive for further growth. That is why they focus their attention on recruitment and retention. "There are currently more than 90 vacancies," says Lode Peeters. "We are not immediately worried, because our companies are and will continue to be an attractive place to work due to their strong culture and growth opportunities."
Tobania also won the LinkedIn Award "Best Talent Acquisition Team" in 2021. A very exceptional reward for our hard work and uniqueness in recruitment and employer branding.
Continuing to grow
As far as the near future is concerned, the Tobania Group continues to count on further growth. Because our customers are satisfied, and our consultants are true ambassadors, we expect similar growth figures in 2022 and 2023.
Want to know more about our Tobania story? Then take a look at our Services & Solutions.