Penta Transformation
The Penta Transformation – An intro
We live in a complex world where doubt, uncertainty and even fear rule society. And this due to political and economic changes. How do you continue your business in such a scenario that wasn't even foreseen until two years ago? Let us offer you the answer: from now on, it will consist of achieving five transformations simultaneously.
The bets are therefore all-in as, with incredible speed, you will have to outline several strategies, and put them into action. Whether or not aligned.
Your 5 transformations in a nutshell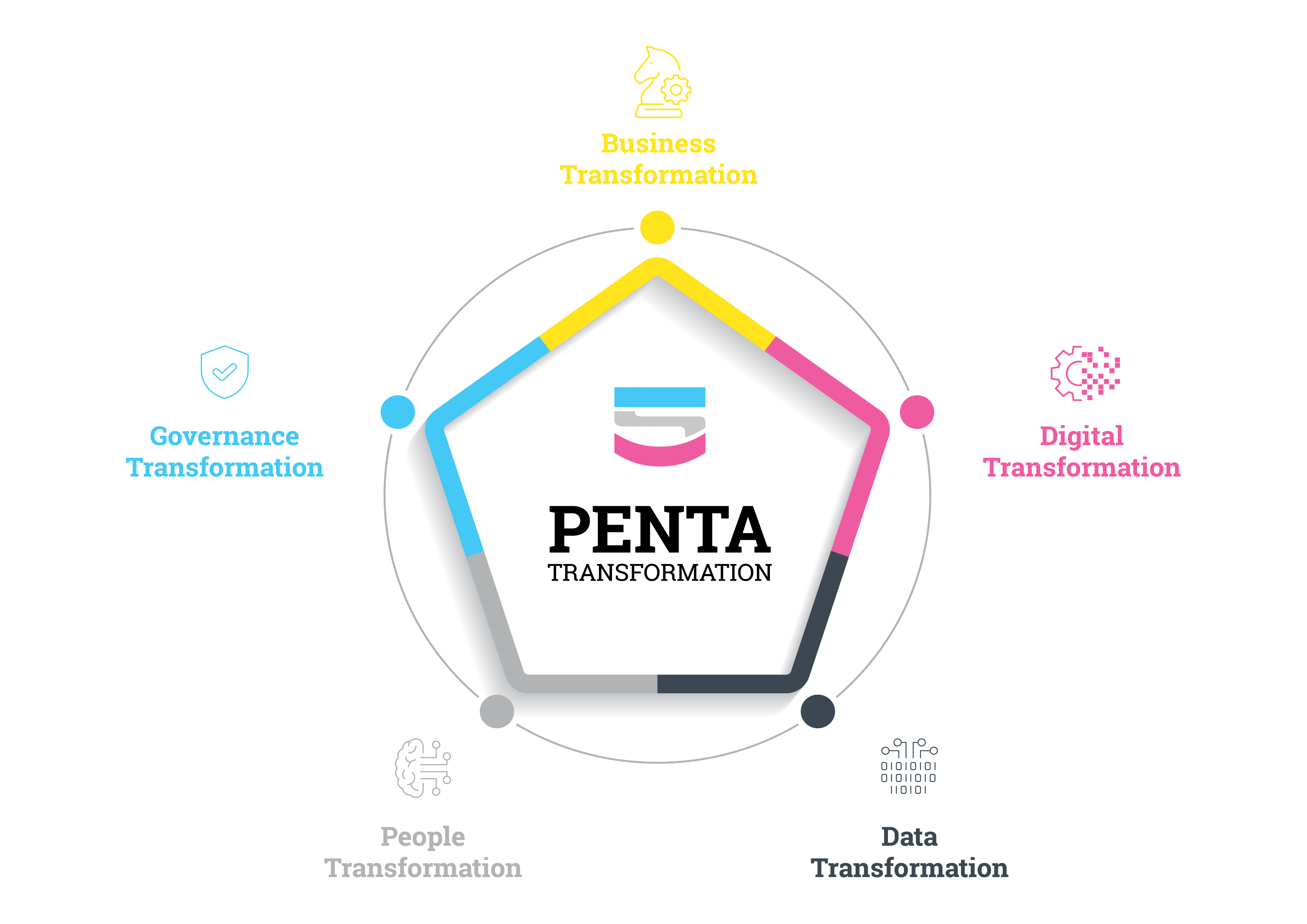 The 5 transformations we have in mind are:
1. Business Transformation: From vision to strategy, build a 5-year business plan with "yes/no" and milestone projects, involving management and employees. SWOT, goals to be achieved, strategies and actions over time: everyone must participate, providing key responsibilities. KPIs, OKRs top down and bottom up ... Translate your ambition into a long-term and action-oriented strategy plan.
2. Digital Transformation: Digital is more than IT. Even today, we recognise massive introductions of new technologies. At the same speed and considering business processes that need to change, we need to adapt our current systems or build new ones. It's more than an e-commerce site or expanding to IoT and 5G, it's designing a digital roadmap, segmenting and defining customer journeys and making digital marketing deliver a positive return on investment for your business of tomorrow.
3. Governance Transformation: Programmes for risk mitigation, compliance with regulations by public institutions or government legislation, and sustainability programmes are the most important. They are onerous and mandatory, no matter what industry you are in. Consent advice and system reporting are inevitable.
4. People Transformation: Business demands maximum flexibility and empowerment of your people. So, the answer is to transform businesses into an agile way of working. At the same time, we need to embrace the talent of tomorrow. Therefore, our workplaces must be transformed to the next level.
5. Data Transformation: Getting more out of your data, valorising your business data and enabling real-time smart decisions based on well-visualised reports while predicting the future: all this is possible with predictive analytics. They enrich your business leaders and enable your organisation to build the best products and services.
Always your wingman
And yet there is more to come... circular economy principles, factory relocation, commodity fluctuation and inflation, among others, make it necessary to re-evaluate yesterday's strategies. You will be required to change your execution plans, refine processes, adjust dashboards and strive for better results.
From strategy to architectural design, from changing existing systems to building new ones, and from continuous testing to full support, here's why we are your best partner in your Penta journey.
Shall we jump right in?
Contact Lode, he will be happy to discuss this topic with you.