Switch Stories - Famke Vlemings
At Tobania, we value our in-house talent. Because great people are our core business! Therefore, we do everything we can to facilitate internal mobility and empower our more than 1.000 Tobians to take their career at Tobania into their own hands. Many of our great Tobians have already done so, which is why we would like to highlight one of them who recently embarked on a new Tobania adventure. Featured in this issue: Famke Vlemings, Scrum Master at Tobania.
Can you briefly introduce yourself, Famke?
My name is Famke. I will turn 30 this summer and become a mother for the first time. Together with my husband, two cats (Bammie and Wiggy) and two dogs (Finn and Tifa), I am currently living in Tienen. Rest assured that I spend most of my free time exploring the world with my furry family. Apart from that, I also enjoy reading books and watching TV series.
How long have you been a Tobian?
As of March 2022, I have been part of the company for five years. I am already starting to feel like an "ancient".
What were your previous roles at Tobania?
I started as a Business Support Officer at BTS (now renamed as the business unit Tobania Support), where I completed two different projects. One project was for one of the biggest fintech companies in Belgium as Procurement Officer. I temporarily replaced the Procurement Officer while she was on maternity leave. The second project at Tobania Support was as a Contracting Administrator at one of our big customers within the banking sector. Together with a large team we were responsible for setting up and executing the contracts for the professional banking applications.
After 2,5 years I transferred to my current business unit EBS, which is now called Tobania Business. My first position was PMO at a client in the banking sector. My core activities were supporting the management team of the department in the area of administration and financial reporting (among many other tasks).
What is your current position at Tobania?
After only a few months of being PMO, I was offered a new opportunity at the customer: to work as a Scrum Master. In this role, I can use all the organisational abilities I have accumulated over the years, while working on my people management skills so that I can continue to grow.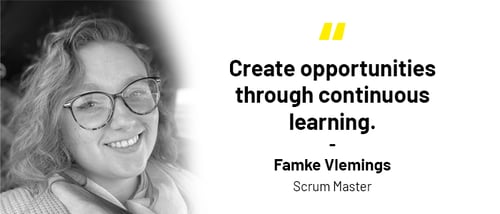 Why did you choose to switch jobs internally?
When I moved from the business unit Tobania Support to Tobania Business, I really felt that I was ready for the "next level" in my career. I wanted a job with more responsibilities and I wanted to go in the direction of Project Management, and those roles are commonly found in the Tobania Business unit.
At that time, Tobania organised a lot of "meet your colleagues" and "internal job fairs", and so I was able to get to know different departments within our organisation, and of these, it was always Tobania Business that appealed to me the most.
From Support Consultant to PMO, and finally to Scrum Master: that's quite a change! What appealed to you in your new positions?
First of all, I am really grateful that Tobania was there to help me through all these changes and accelerate my professional growth.
What attracted me to the PMO position was that I had a first experience in Project Management. To become a Project Manager, you first need to gain some relevant experience " up below", so that you can start climbing your way up. This was really what I wanted to work towards when I accepted the PMO position. Besides, it was the perfect way to focus all my perfectionist energy: I love to connect the dots.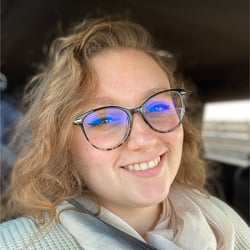 "I skipped a few years in my mental career and looking back, it was exactly what I needed at that moment. It was quite a challenge, but you can only learn and grow from it.
When the opportunity of becoming a Scrum Master arose, I had not really thought about taking on a new role. I was still happy in my position as PMO and still felt I had a lot to learn. But due to the circumstances at the time, I had to make a choice and either leave the customer I was working for or take on the Scrum Master role. Since I was very happy with where I was working, I decided to take the plunge. I skipped a few years in my mental career and looking back, it was exactly what I needed at that moment. I had to move from very individual tasks and activities to working with and for a team. It is quite a challenge, but you can only learn and grow from it.
How would you describe the job of a Scrum Master?
When I first started, I used to say that I was the personal PMO of my team. I took care of the administrative overhead and reporting, which was very similar to my previous role. But instead of managing it for an entire department at a high level, I had to cover it in more detail for a smaller team.
Usually, a Scrum Master in Scrum is called a "servant leader". It is a very adequate description, as you are in no way hierarchically "above" your team members, but you do lead them in the right direction and support them when necessary. You support your team in becoming the best version of themselves, by taking away some of their burden and coaching them to become a well-running unit. You facilitate change while questioning and challenging their way of working. You may not have many "finishing" tasks, but the progress the team makes over time is well worth your efforts.
"Being a Scrum Master made me re-evaluate my career plan, as I had no idea I would enjoy working with people so much."
What do you like about your current position? What keeps you focused?
I really like working with people. Being a Scrum Master made me re-evaluate my career plan, as I had no idea I would enjoy working with people so much. I've always liked being a team player, but I felt like I needed tasks where I was the one in charge of change, in control of how things were going. As a Scrum Master, you actually do none of the work that your team does. It's all out of your hands and you have to trust your team, while creating an environment in which they can thrive.
What keeps me focused is seeing the progress my team is making. It has been a challenge to get to where we are now, and it will take a few more years to get to where we need to be. And that is not a bad thing. You try something new, sometimes it works and at other times it fails. Both experiences help you and your team grow.
How did your internal application process proceed?
I attended a "speed dating" session with a number of people within the Tobania.Business business unit (recruiter, HR BP and consultants working as PM and BA) where it was possible to talk about what you would like to do, ask questions, have the fellow consultants evaluate whether you fit certain roles or not and what you could learn before making the switch. At that speed dating session, I was matched with the PMO position for which a vacancy urgently needed to be filled. I had my interview with the client a few days later and was able to start the following week, as the contract at my previous assignment had already expired.
Many people like to take on a new challenge within their company, but they have to be willing to take the plunge. Can you give them three tips to easily manage their internal career switch?
New opportunities often present themselves just around you. Keep your ears open and if you are interested in a new job, show your interest to your N+1 or the person hiring. That often gets things moving. Motivation and interest can often put you ahead of other candidates, even if you lack experience.
Talk to fellow Tobians who currently hold the position you are interested in. They can help you get a more accurate picture of what the job entails, and they may be able to help spot an opportunity for you at their customer (e.g. another Scrum Master leaving in the same department may create an opening for you). Our HR BPs can be miracle workers, but like the rest of us, they don't have extra time. By expanding your network, you can pick up concrete leads to follow up on, with the support of the internal Tobania staff.
"Create opportunities through continuous learning."
If you are hesitant to switch because you feel you lack certain knowledge or skills, don't hesitate to talk to your mentor or HR BP and see what training is available. I had the opportunity to attend a Cevora/Cefora training course on Agile basics in IT, which really helped me get the foundation I needed to start working as a Scrum Master. Create opportunities through continuous learning!