Meet Simon Versteele, our Microsoft 365 Expert
Did you know that Tobania has a Microsoft 365 squad? Together, these dedicated consultants offer a broad portfolio of services and are on standby at our customer's premises to answer any question, big or small. Whether it's about a specific Microsoft Teams training course or the integration of the full Microsoft 365 suite into an existing app environment. Anyway, to enable you to get a better picture of these 365 superheroes, we would like to introduce you to Simon Versteele, our Solution Architect and Microsoft 365 Expert.
Can you briefly introduce yourself, Simon?
Hello, my name is Simon, and I have been working at Tobania since 2015. I studied IT in Leuven, majoring in Development. However, soon after completing my studies, I discovered that I got more energy from a job where I could align myself more closely with other company departments. I enjoyed seeing how other teams operated, and how they could optimise their processes. From this interest, I first discovered the migration of the document management system "Alfresco" to "SharePoint". I was immediately interested in Microsoft's vision and the new way of working they were promoting: cloud computing, co-authoring, and breaking barriers between teams and even countries.
This was 12 years ago now. Since then, I have completely immersed myself in Microsoft 365, and have held various roles (Functional Analyst, Business Analyst, PM, SCRUM Master, Solution Architect), with one constant love, of course: Microsoft 365.
What exactly does your job as a Microsoft 365 expert entail?
Fellow colleagues know they can approach me with any question about Microsoft 365. After all, I love being able to help them out and show them little-known functionalities that can simplify their daily operations in the blink of an eye.
Preferably, I would rather meet with a full department to see what optimisations they envisage within their operations. That way, I can create mappings on the various applications and functionalities that are already available today, but that the respective teams are not yet leveraging. Thanks to my years of experience, I am well aware of potential pitfalls, and can ensure that everyone is immediately aware of the best practices. Besides, do not underestimate the importance of some solid change management before, during and after the introduction of new methods to guarantee a proper user experience!
As an expert yourself, how do you stay fully up-to-date with the latest Microsoft 365 trends?
That goes without saying. Every application on my mobile that I open shows me the latest updates from Microsoft 365. For example, just consider Twitter (sorry, "X"), LinkedIn, and my Google updates. In addition, Microsoft runs several blogs on which they themselves highlight the latest features of all Microsoft 365 tools (blogs.office.com).
Besides following blogs and posts on various forums, there are also a lot of conferences that provide a close look into Microsoft's future vision and where experts from all over the world and Microsoft employees explain the latest novelties.
To provide an example: Belgium also hosts a great User Group, Belgian Information Worker User Group (BIWUG) which anyone can join for free. They organise almost monthly free evening events during which some sessions are provided and you get a chance to interact with other experts from Belgium. Every year they also organise a free conference (CollabDays), This is a perfect opportunity to spend a Saturday networking and getting inspired by different sets of panels.
If you had to choose just one, which M365 app do you prefer?
I am huge fan of Power Automate. This application enables anyone to automate repetitive tasks. I use the app for personal automations, such as allowing all emails from a particular customer to end up in my personal to-do list on SharePoint, but also for business processes. For instance, we created a form that generates a task based on given input, and subsequently assigns it to the right team. When this task is updated, the submitter of the query will get an automatic email with the latest information about their task.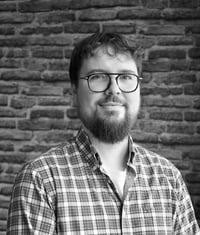 "It is great to see a team fully switch to the Microsoft 365 suite and discover how convenient it is to share documents and quickly chat or video call instead of emailing."
What is your favorite M365 project up until today?
My favourite project is any project where you notice that the solution adds so much value that other departments spontaneously ask to join as well. This happened, for example, with a Power App we built to reserve a seat in the office during corona restrictions. This solution easily facilitated seat reservations within our team. Very quickly, the app got picked up by other boards, and has been used by different teams, in different countries.
It's also great to observe a team - that has always worked in the traditional way - fully switch to the Microsoft 365 suite and discover how convenient it is to share documents, work on a document together, and quickly chat or video call instead of emailing.
"We always depart from the business need of our customer and then look at the best solution together. Regardless of the technology."
Microsoft 365 integrates with various third-party applications and services. How do you help our customers identify and implement the best integrations for their specific needs?
Oftentimes, customers are already working with familiar applications. In that case, we try to see if we can improve their daily operations by integrating these applications with Microsoft 365 to combine the best of both worlds. We never want to perform an integration just to push Microsoft 365. We always depart from the business need and then look at the best solution together. Regardless of the technology.
How do you help our customers optimise their Microsoft 365 subscriptions to align with their organisational goals?
We often visit customers who already work with Microsoft 365, but only utilise a fraction of their licence. In this case, we engage with some stakeholders from different services to discuss their day-to-day operations and to see where we can offer solutions with the tools they have available, but which they frequently haven't worked with yet.
We also help these companies establish governance, to avoid a proliferation of Teams, sites and documents, and to properly use the environment, protect information, and prevent data leakages.
Beyond the technical aspects, how do you help organisations foster a culture of continuous learning and skills development related to Microsoft 365?
Introducing Microsoft 365 within a company will only work if you have the full commitment of the board and management, as well as a well-defined migration and communication plan.
Even before introducing new tools, it is important to prepare and convince employees of the added value that this new way of working will bring. We try to involve every department in the transition, and help them translate their specific cases into best practices in the new environment.
One method that has always worked very well so far is appointing Champions (Power Users/Key Users). Champions are the individuals within the company who are already convinced of the added value Microsoft 365 has to offer. Ideally, you can identify one or more Champions within each service. These Champions are the first to be informed about upcoming functionalities and are given a dedicated communication line for asking questions or for sparring. Moreover, they receive training or update sessions at regular intervals. In return, the Champions transfer this knowledge to their colleagues and work as the first point of contact if someone has an idea for a new integration.
"Our Microsoft 365 experts come with different roles and strengths. So, when we introduce ourselves to the customer, we are always capable of offering a comprehensive portfolio of profiles."
Do you work with change experts to facilitate this learning culture?
The strength of our Tobania team is that our Microsoft experts come with different roles and strengths. For example, besides our dedicated Microsoft Experts and Analysts, we also have a Change expert who, in addition to her Microsoft expertise, has a huge wealth of knowledge about user adoption. In addition, we also have a colleague who is very strong in building visually attractive apps and sites. Furthermore, there are several other colleagues who are very good at providing training sessions.
So, when we introduce ourselves to the customer, we are always capable of offering a comprehensive portfolio of profiles. Apart from this, we also enjoy collaborating with the in-house experts at our customers. In the end, the Learning Coach at the customer knows best which methods work best in his/her own company. Which in turn allows us to continue to learn new tricks and methods that we can introduce to other projects.
What is your vision for the future of the platform and how do you expect it to evolve to meet the changing demands of the digital landscape?
At Tobania, we closely follow Microsoft's latest AI announcements so that we are well prepared to provide comprehensive insights to our customers.
Like many of my colleagues, I am extremely curious about what Microsoft will bring in terms of Artificial Intelligence (AI). A few months ago, Microsoft announced Microsoft Copilot. This will make it possible, among other things, to use AI for generating and modifying documents, PowerPoints and mails instantly, based on all company's data that is accessible to you.