Masters of Digital Adoption
How to tailor digital trainings to the new workforce generation?
A key pillar of tomorrow's innovation? Digital adoption, since your business requires your people to be more flexible and empowered than ever in order to change with you. But how do you apply this most efficiently within today's rapidly changing work environment?
In this Masters of Digital Adoption interview, authored by one of our partners Userlane, we discuss why digital adoption is a key pillar in our transformation projects. Moreover, we explore how the new younger workforce's expectations will change the landscape of the Digital Employee Experience. Accustomed to gamification, interactivity and simple and quick ways to work, your organisation will need to reassess its training offerings based on the changing needs of end users.
We had a chat with our Tobians Rob Stox, Manager of our SMART.Business team, and Wannes Van der Perren, Business Consultant within the SMART.Business team.
Rob: Within the SMART.Business team at Tobania, we focus on four key pillars when we work with our customers on transformation projects; digital transformation, digital adoption, digital workplace, and digital governance. The red thread through all of our projects is that we operate data-driven. We always look to enrich the data in new and innovative ways so our customers can make informed business decisions.
Wannes: I specialise in digital adoption, an exciting and growing area driven by the emergence of the Digital Adoption Platform.
Training needs to be agile and adaptable in fast-changing environments
Rob: If we think about the financial sector as an example, there are a set of objectives that come up with the majority of our customers; operational excellence, customer intimacy, product and service leadership, and employee intimacy.
In the past, the approach would be to focus on one strategic route. However, digital adoption's sweet spot is in the middle of these objectives, and if digital adoption is managed correctly and the value is understood by businesses, it can have a positive impact on all of these important areas for a business.
"The younger workforce likes to learn when needed, using self-initiative to figure out processes."
Wannes Van der Perren
Wannes: As awareness for digital adoption grows, driven by its ability to impact critical business objectives, the training types and techniques a business deploys will need to be re-assessed.
Especially when we consider the new younger workforce coming through and the ad-hoc learning style they prefer and need. They like to learn when they need it and use their own initiative to figure out processes. So, they don't want a 2-3-day long training course.
In the not-so-distant future, reading 10-page PDFs and joining 45-minute webinars will be redundant and not produce the engagement levels required for the complex software being introduced to everyday working life.
Rob: All customers have the same problem with software - how can we improve the onboarding, processes, speed of delivery and learning?
Previously, a well-balanced and designed User Experience and User Interface were seen as the solution to all of these problems. Now, with digital adoption, we are moving towards considering user behavior. We are now gathering and assessing data on which processes are being used, whilst preparing IT teams for fast changes that are inevitable with complex software used in enterprises. It is rightly so, now about being adaptable to the agile environment so that productivity is not impacted. Just focusing on UX and UI it is not always possible to create this adaptability.
Wannes: This is especially important for organisations that are working with very large ERP and CRM tools. These tools have so many functionalities and complex processes that it is hard to make it usable for everyone. That is why digital adoption is handy, as you can quickly and easily guide users through the applications, so anyone can master the software quickly.
The current state of play for digital adoption
Rob: There is a lot more interest in digital adoption amongst businesses, but it remains fairly unknown. Improving UX and UI remains top of agendas currently, which is risky because it means they are not considering the bigger picture and how to adapt to continuous change.
There is a focus on the tools and not on the people using the tools. Which in the long run will not lead to successful transformation projects.
Wannes:Training is also lagging behind and becoming ineffective. Classic training, like taking people out of work for a day of workshops, is not as feasible for the younger workforce. And white-collar workers are just not interested.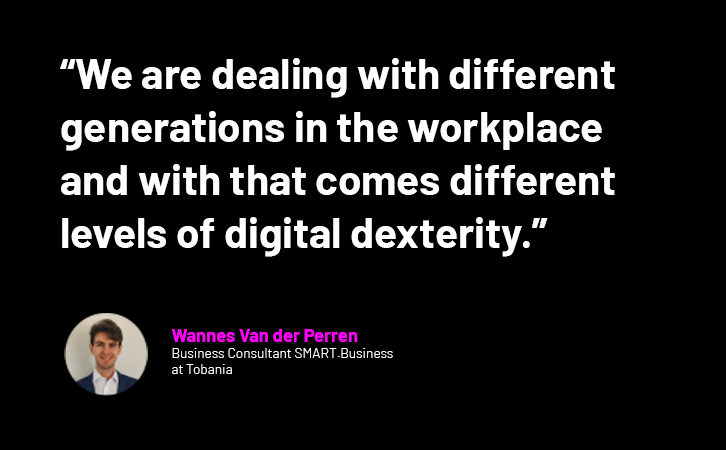 Digital employee experience expectations are changing
Wannes: We are dealing with different generations in the workplace and with that comes different levels of digital dexterity.
The older generations have not grown up with software and often are scared to use new tools. Then there is the younger generation who are open to trying a lot more, making more mistakes but learning by exploring. In the future workplace, we expect that more people will want to explore and learn at their own pace.
Rob: You have to remember that no one is joining a company for the software. They join because they want to fill a role and make an impact. The tool they use is just a means to an end for employees. They don't need to know the tool by heart, they want to be set up to use the tool quickly and easily so they can be more customer-driven and service-driven.
How gamification and interactivity create great learning experiences
Wannes: As I mentioned previously, we have witnessed a want from younger generations to explore digital tools by themselves. Similarly to how they have done so in their personal lives with the use of technology. So, their digital expectations are high - they expect work tools to be clear and simple to use, else they will find a way to figure it out themselves. They will play around and learn whilst doing.
Rob: Interactivity is key for this generation, and businesses that want to set themselves up for future success need to consider the following best practices to ensure they are providing the best learning experiences for their employees:
1. Optimise usage of tools
Understand which processes are the toughest and most complex for your users and why. Is there a lack of functionality in the tool for example? Once you have figured out why there is a friction point, you can know how to fix it. A DAP like Userlane provides an analysis of how your users are interacting with the tool and where they are getting stuck.

2. Make data-driven decisions
A Digital Adoption Platform (DAP) does not just provide guides, it also generates a lot of data. Which processes are being used, and what are the obstacles. You can build a knowledge base based on interaction with the tool and you can make informed decisions about changes and upcoming updates based on actual user behavior insights.
3. Ease pressure on IT
Small improvements can be made by adding business logic into an application, which in turn can help optimise the processes for users. It is about making things and keeping them as simple as possible. A DAP is able to solve this in an efficient way as it allows IT some breathing space to make adoptions to the application, without business being interrupted.
4. Personalise it
Everyone handles technology differently and at different paces. Classical trainings can still work for some requirements and users, but you can also be agile with a DAP to give time for people to read at their own pace and learn how they like to learn.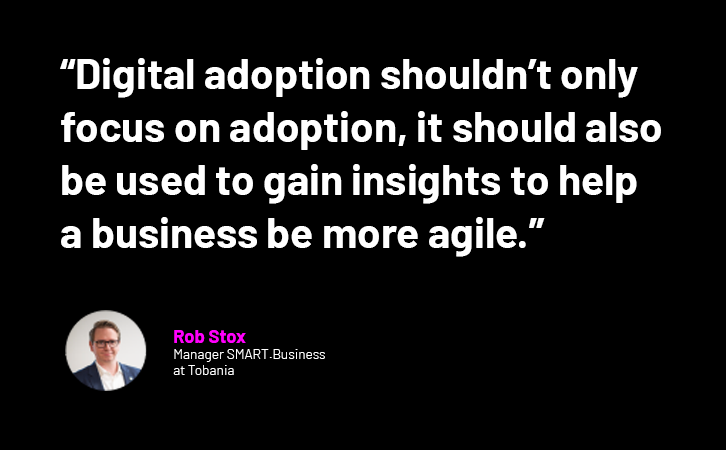 Our one piece of advice for mastering digital adoption…
Wannes: Make the training personal and allow people to learn at their own pace in a way that suits them.
Rob: Digital adoption should not only focus on adoption, it should also be used to gain insights to help a business be more agile.
Let's talk!
Feel like talking to our experts about our Userlane partnership and our digital adoption approach? Then feel free to contact:
Rob Stox
Manager SMART.Business at Tobania
+32 473 61 79 57